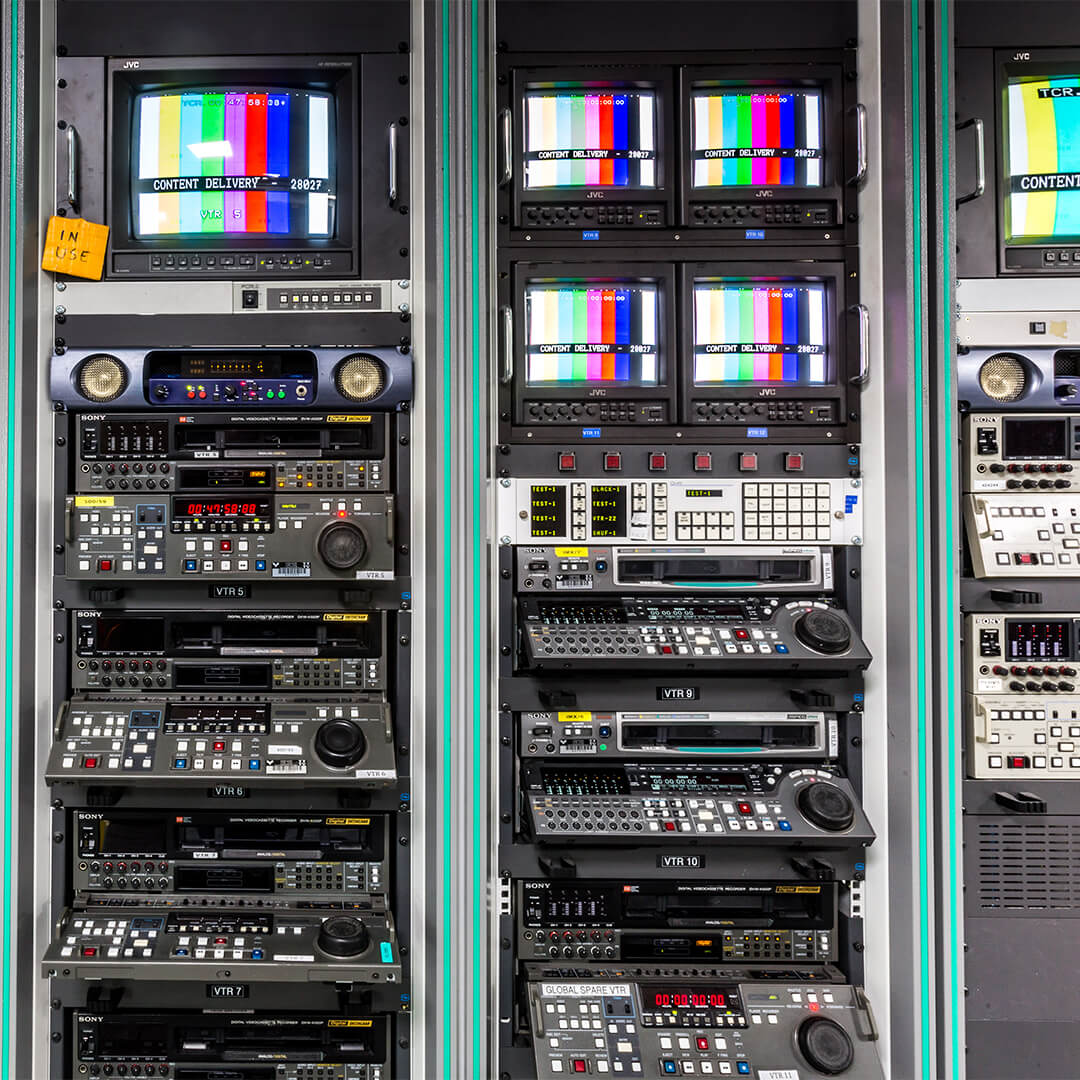 Our Kit
ITV Content Services has the most comprehensive range of equipment to support film and tape digitisation and restoration in the North of England. Here's a run-down of our kit, and the key benefits it provides:
The UK's only 16mm and 35mm Steenbeck film scanners – our film ingest solution. Also a DFT Scanity 16mm-35mm high-end film scanner. ITV Content Services Vintage Cloud Steenbeck digitisers are capable of digitising images up to 4K resolution and audio at the same time, resulting in high quality digital output.
We use Digital Vision World's Phoenix restoration software which offers a range of services including de/re-grain, de-warp, image stabilisation, noise reduction, image sharpen, dust-bust and clean. Our restoration work on Carry On Up The Khyber recently won the RTS award for Excellence in Post Production.
Our fully automated bulk ingest solution uses Sony Flexicarts to digitise content from tape (Beta Sp, DB, HDCam, HDCam SR) in bulk. ITV Content Services have 3 machines, allowing us to ingest 6 tapes at a time 24 hours a day!
Our legacy/heritage tape formats, which include D2, 1″ and U-Matic. We can even accommodate VHS, S-VHS and DVD. If you have a tape on a format you don't recognise, let us know as we almost certainly have a machine capable of playback.
We use Telestreams Vantage to transcode high volumes of video files. Vantage is the industry gold standard for transcoding, and a very fast means of processing multiple file transcodes at a time. Alchemist is used for complex standard conversions, and we use Digital Vision World's Phoenix for state of the art video upscaling.
ITV Content Services uses Aspera and Signiant, the leading media shuttle and point-to-point file transfer technology, which is an incredibly secure method of delivering video material and up to 200 times faster than traditional file transfer technologies such as FTP and HTTP.
View Detailed Services
Transfer
Services Provided
Format
Description
Film
16mm - Scan up to 4k
35mm - Scan up to 4k
Super 16mm - Scan up to 4k
Super 35mm - Scan up to 4k
Super 8
8mm
Tape
Bulk or single ingest
Able to transfer all formats to file, USB and some to DVD or tape depending on stock
VHS-C PAL/NTSC to PAL
VHS PAL/NTSC to PAL
VHS NTSC
Betacam PAL
Betacam SP PAL/NTSC
Digibeta PAL/NTSC
Betacam SX PAL
U-Matic PAL
HDCam
HDCam SR
D2 PAL
1 inch C PAL
DV Cam PAL
Mini DV PAL
DVCPro
HDV
LTO 5&6
XDCam
File
File
Standards Conversion
XDCam
LTO 5
USB
DVD
Camcorder tapes
Hi-8
Digital 8
Audio
Audio Cassette
Reel-Reel 1/4"
Content Identification
Creating descriptions of the contents of each asset for archives / individuals who are are unable to.
Content logging and physical status analysis (degredation, mould, scratches etc)
Creating a spreadsheet or other logging system to keep track of data for each asset such as the name, date, status through our process, quality, issues etc.
Quarantining of degraded film - vinegar syndrome, mould etc
Separate storage area for contagious materials
Content storage
Secure storage - Where do we store them? Competitors place emphasis on the security (in terms of the premises having security as well as the fire-resistant, temperature controlled, organised storage location)
24/7 tape transfer
Two Sony Flexicarts and an automated tape ingest process allow us to ingest a range of Broadcast quality SD and HD tapes 24/7, with members of the team working 7 days a week and outside of standard office hours.
Transfer review
All transfered files and scans are reviewed for quality.
Eyeball QC
5 point check
AQC
PSE Harding tests
R-128 compliancy
Standards Conversions
Between frame-rates, de-interlacing, codecs, DPP file creation?
Restore
Upscale any file to HD, 2k, 4k
Film Cleaning
Prior to transfer or restoration with a sprocketless cleaning.
Colour balancing / grading
Digital artefact removal (Hairs, dust, scratches) from film scans
Grain manipulation
Digital stabilisation of film scans
Guidance and recommendations
On an individual asset level, advice on restoration possibilities, how worthwhile restoration would be, demos and examples of restoration.
Deliver
Via Aspera
Via Signiant
Via FTP
Physical asset delivery
USB, DVD, Tape etc
Returning physical assets
Posting or shipping the original tapes or reels to the client.